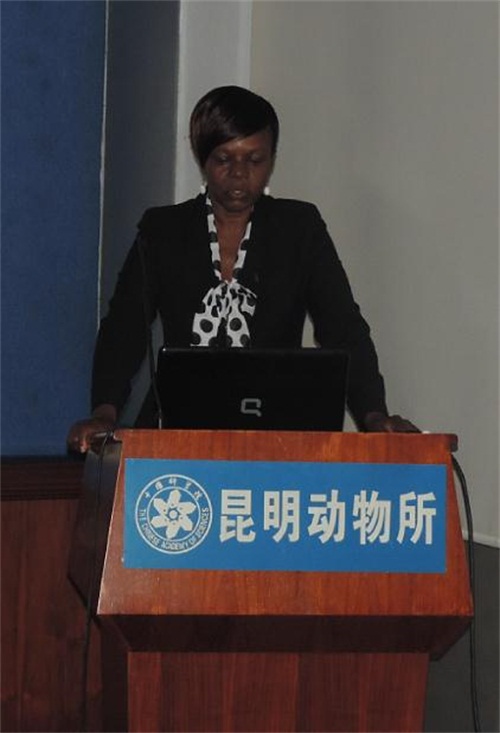 By Gitonga Njeru in Nairobi
A research Project between the National Museums of Kenya (NMK) and Bayer AG, is showing that pollination is the answer to food security and other agricultural solutions.
"We need to understand the role of pollinators in agriculture to increase food production and income of farmers. Farmers in semi-arid areas of the country are benefiting a great deal and we hope to go largescale", said Dr. Mzalendo Kibunjia, Director General of NMK.
"Markets for fruit and horticultural products for export are increasing in Africa. Kenya is no exception with agriculture contributing a key role in the economy where horticulture contributes 33% of total GDP and 38.5% of exports", he added.
One of the project researchers Dr. Esther Kioko, Department Head of Zoology Department of National Museums of Kenya (NMK) says that the findings should be included in national agricultural policies.
"At landscape level, pollinators of crops and wild flora offer ecosystem resilience, food security, environmental health while supporting avenues for generation of rural wealth.
"Around two thirds of widely cultivated crop plants provide food for the world and many medicinal plants rely on pollination by insects to produce fruits and mature seeds" Dr. Kioko who heads the department of Zoology at NMK said during an interview.
According to Dr. Kioko, countrywide in Kenya, cowpea (Vigna unguiculata, amaranth (Amaranthus spp.), pumpkin (Cucurbita spp.), spider plant (Cleome gynandra), night shades (Solanum complex), jute mallow (Corchorus spp.), and slender leaf (Crotalaria brevidens and Crotalaria ochroleuca) are the preferred species grown by many communities.
"And obviously, they are part of our research on how we can improve them", she said.
Information on the vegetable value chains precisely on their pollinators and the yield and seed set in these vegetables is poorly understood.
Other vegetables of domestic and commercial value such as tomato (Solanum esculentum), squash (Cucurbita pepo), cucumber (Cucumis sativus) among others have been shown to benefit from insect pollination in terms of yield quantity and quality but there is paucity of information on the status of their pollinators.
Dr Kibunjia confirmed that inadequate knowledge on pollinator diversity compromises research on pollinator diversity and decision pathways at national, regional and global levels. It is therefore hard for the population to have sufficient knowledge to be able to conserve pollinators or even for policy makers to formulate pro-pollinator policies that are also desired in mitigating climate change.
"Future of the pollinators in arid and semiarid areas (ASALS) is closely tied to management policies and capacity which requires pollinator biodiversity information which is evidently lacking.
"The focus of this project is on the pollinators which play a critical role in the pollination of African indigenous vegetables and other vegetables grown by small scale farmers (mostly women) in drylands in Kenya", Dr. Kioko explained.
Dr Kioko confirms enhancing and monitoring of pollinators to improve vegetable production for small scale farmers and leverage agribusiness, Bayer has partnered with the National Museums of Kenya to pilot proposed study in Machakos and Makueni Counties over a two-year period.
"We envisage locally that pollinators shall be optimally monitored through the exploitation of technology innovation, outreach and small scale farmer network channels to deliver sustainable production of vegetables.
"Poorly resourced communities in these arid areas. Importantly, the project will support the development of a viable horticultural sector which would, in turn create 'home-grown' Science, Technology and innovation that is relevant for our needs and priorities", said Dr. Kioko.
"This project is timely! The smallholder women farmers, who play a very critical role in food of production for their families have often not received the information they need to flourish.
They play a big role in the battle to feed their families. They are desperately in need of relevant research support, technical advice, appropriate knowledge and technology.
"Through the training undertaken in this project, they will understand the indigenous diversity of pollinators in their farms and surrounding habitats.
"They will also evaluate their farming practices to improve the availability of forage for all year round survival of the pollinators for improved crop yield quality and quantity", said Dr. Kioko.
"This project provides a great research cooperation for the National Museums of Kenya (NMK), enhancing public-private partnerships and collaboration with the rural communities.
"Mobilizion and sharing knowledge, expertise, technologies and financial resources to support the achievement of the sustainable development goals in the dryland areas of Kenya.
"The undertaking of this project is also helping the NMK achieve her national and international goals of enhancing the understanding and conservation of one of the poorly known key natural heritage components" said Dr. Kibunjia.
According to the researchers, the pollinators of vegetables. Secondly the subject matter is relevant to the Vision 2039 and achievement of the Sustainable Development Goals, thus it is of importance to the national development agenda.
The researchers say that pollination information and services should be available to farmers for the production of high-quality food.
This project is bringing NMK researchers and rural women farmers together in enhancing the understanding and conservation of pollinators in arid areas of Kenya.
"It is a great and unique opportunity for the NMK researchers and to young upcoming scholars who will undertake research in the project. Most importantly, the project enhances knowledge and economic empowerment of the women farmers, leading to the growth and prosperity of the entire community", says Dr. Kioko.