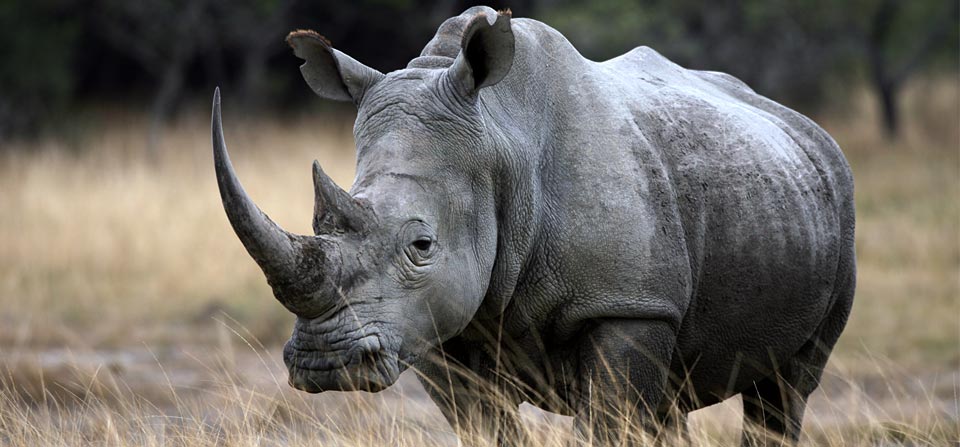 A wildlife expert has opposed moves by Zoos to dehorn Rhino as a means to protect them from poachers, calling instead for improved security.
"Subjecting rhinos unnecessarily to the dangers of an anaesthetic, and physically distorting their magnificent and unique profiles by dehorning them in a bid to deter poachers is short sighted and frankly lazy," said Dr Joseph Okori, Regional Director: IFAW Southern Africa and IFAW Director of Landscape Conservation. "What they should be doing is improving their surveillance and detection systems to back up their security to safeguard rhino exhibits."
Reacting to an announcement by a Czech zoo yesterday that they would be dehorning 18 black and southern white rhinos "for the sake of rhino safety". Last week poachers shot dead a white rhino in a French zoo and hacked off its horns before escaping. Since then at least two other European zoos have announced they were also planning to dehorn their rhinos.
"There is absolutely no excuse for any animal – rhino included – to be poached within the confines of a zoo; zoos need to demonstrate more action and diligence in their efforts to protect endangered zoo species, more so those that are currently illegally traded or have potential to be traded on the black market," said Okori.
Okori said poachers might be targeting zoos as soft targets as enforcement efforts in Africa were beginning to bite hard putting pressure on the criminal activities.
Last year South Africa lost 1,054 rhinos to poaching incidents, a decline of 10.3 per cent on 2015; A total of 680 poachers and traffickers were arrested for rhino related poaching offences nationally – more than double those arrested for the same offences in 2015; of those 417 were arrested within and outside the Kruger National Park, home to the largest single population of rhino.