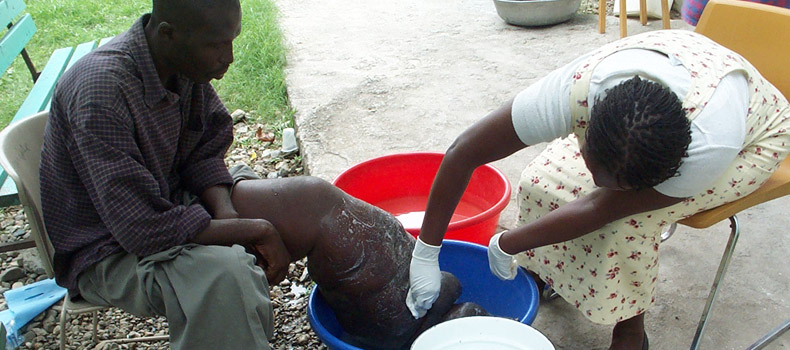 Leaders from governments, pharmaceutical companies and charitable organizations convened at a five-day summit in Geneva to pledge new commitments to control and eliminate neglected tropical diseases (NTDs). The summit coincided with the launch of the World Health Organization's (WHO) Fourth Report on NTDs, showing transformational progress against these debilitating diseases, and a commitment by the United Kingdom to more than double its funding for NTDs.
The meeting comes five years after the launch of the London Declaration on NTDs (http://APO.af/5jKHBH), a commitment by the public and private sectors to achieve the WHO goals for control, elimination and eradication of 10 NTDs. In that time, billions of treatments have been donated by pharmaceutical companies and delivered to impoverished communities in nearly 150 countries, reaching nearly a billion people in 2015.
NTDs are some of the oldest and most painful diseases, afflicting the world's poorest communities. One in six people suffer from NTDs worldwide, including more than half a billion children. NTDs disable, debilitate and perpetuate cycles of poverty, keeping children out of school, parents out of work, and dampening hope of any chance of an economic future.
A new report titled Integrating Neglected Tropical Diseases in Global Health and Development by the WHO revealed that more people are being reached with needed NTD interventions than ever before. In 2015, nearly a billion people received treatments donated by pharmaceutical companies for at least one NTD, representing a 36 percent increase since 2011, the year before the launch of the London Declaration. As more districts, countries and regions eliminate NTDs, the number of people requiring treatments has decreased from 2 billion in 2010 to 1.6 billion in 2015.
"WHO has observed record-breaking progress towards bringing ancient scourges like sleeping sickness and elephantiasis to their knees," says WHO Director-General, Dr. Margaret Chan. "Over the past 10 years, millions of people have been rescued from disability and poverty, thanks to one of the most effective global partnerships in modern public health."
The report detailed progress against each disease, citing countries and regions that are reaching control and elimination goals for specific NTDs. Highlights of the report included the news that in 2015, there were fewer reported cases of sleeping sickness than any other year in history, with fewer than 3,000 cases worldwide – an 89 percent reduction since 2000.
Innovative vector control and diagnostic technologies, supported by increasing numbers of product development partnerships, are revolutionizing sleeping sickness diagnosis, prevention and treatment. The report further showed that in the last year, eight countries (Togo, Cambodia, Cook Islands, Maldives, Marshall Islands, Niue, Sri Lanka, and Vanuatu) eliminated LF, and 10 other countries are waiting on surveillance results to verify elimination.
Thanks to strong programs, the number of people globally requiring preventative treatment has dropped from 1.4 billion in 2011 to fewer than 950 million in 2015. Cases of Guinea worm disease were also reported to have reduced from an estimated 3.5 million in 1986 to just 25 human cases in 2016 in just three countries – Chad, Ethiopia and South Sudan.
Governments and other donors announced new commitments at the summit to expand the reach and impact of NTD programs around the world. The Bill & Melinda Gates Foundation committed $335 million in grants over the next four years to support a diverse group of NTD programs focused on drug development and delivery, disease surveillance and vector control. The commitment includes $42 million to support The Carter Center's guinea worm eradication initiative, as well as dedicated funding to accelerate the elimination of African sleeping sickness.
"NTDs are some of the most painful, debilitating and stigmatizing diseases that affect the world's poorest communities. That's why we helped launch the London Declaration, a historic milestone that led to significant progress in treating and reducing the spread of NTDs and demonstrated the impact that the public sector, the private sector, communities and NGOs can have by working together," said Bill Gates, co-chair of the Bill & Melinda Gates Foundation.
"Thanks to this partnership, these neglected diseases are now getting the attention they deserve so fewer people have to suffer from these treatable conditions. There have been many successes in the past five years, but the job is not done yet. We have set ambitious targets for 2020 that require the continued commitment of pharmaceutical companies, donor and recipient governments, and frontline health workers to ensure drugs are available and delivered to the hardest to reach people."
The Belgian government also pledged an additional $27 million, spread equally over the next nine years, toward the elimination of sleeping sickness in the Democratic Republic of the Congo (DRC). This amount will be matched for the next three years by the Bill & Melinda Gates Foundation, establishing a platform for increased collaboration between Belgium, the DRC and the broader NTD partnership.
As part of its commitment to eliminating HAT, Vestergaard pledged to donate 20 percent of its insecticide-treated "tiny targets" used to control the tsetse flies that carry the disease, scaling over the next three years towards 100 percent as elimination nears.
These commitments build on the UK Government's announcement earlier this week, in which it pledged almost $450 million over 5 years to support NTD control and elimination efforts around the world.
Industry leaders also reaffirmed their 2012 pledge to do their part to beat these diseases, and encouraged other sectors to maintain their commitments as well.
"The London Declaration is a powerful example of the impact of successful partnerships," said Haruo Naito, CEO of Eisai and an original signatory of the London Declaration. "By leveraging our resources and focusing on a common goal, we are already making unprecedented progress towards eliminating these horrific diseases. The work we are doing today is a long-term investment into a healthier and more prosperous future."
In addition to donations, pharmaceutical companies are working together and with research institutes to discover and develop new tools to prevent, diagnose and treat NTDs.